TEI Rock Drills, CAA Metal Works, All Points Transit and the Black Canyon Homebrewers Association present the 12th Annual Montrose Oktoberfest on Saturday, September 30th from 1-6PM
Centennial Plaza, Downtown Montrose
Enjoy Award-Winning Craft Beers, Live Music, Food, Costume Contest, & More!
---
Over 25 breweries will descend on Centennial Plaza  in Downtown Montrose, Colorado for the 2017 Oktoberfest. Your ticket includes a cup to use for unlimited tasting from the best craft breweries on the Western Slope and beyond!
Breweries Include:
2 Rascals • Avalanche • Colorado Boy • Echo • Golden Block • Grimm Bros. • Horsefly • Irwin • Kannah Creek • Edgewater • Odell • Ouray • Palisade • Revolution • Rockslide • Suds Bros. • Tivoli • Breckenridge • Oskar Blues • Crooked Stave • Upslope • Western Distributing • New Belgium • Avery • Ska • Telluride • Copper Club • 4 B's Cider • Snow Capped Cider
Also at this year's festival:
– Live performances from Taylor Scott Band and Intuit
– Delicious food from local food trucks and restaurants
– Live polka dancers!
– Costume contest with  adult, child and group categories
– Stein hoisting competition
– Group chicken dance
– Alpine Bank Photo Booth
– Kid's tent with face painting and other activities!
Proceeds from Montrose Oktoberfest support All Points Transit, a 501c3 non-profit organization providing transportation for seniors, people with disabilities and others in need in communities across 4 counties on the Western Slope of Colorado.
---
Music Lineup
Intuit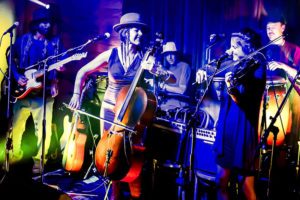 Braiding sounds from many cultures, Intuit weaves an auditory tapestry of reggae, blues, African poly-rhythm, folk, funk and jazz. The rootsy groove is fueled by the impeccable rhythm section of drummer Jonny Jyemo, bassist Otis Lande and percussionist Scott Parker-Mast. Violin and vocals from Brune Macary. Lyrical prowess and songwriting from guitarist Neil Sullivan and cellist Chloe Watkins display the heart-centered, earth-minded intention to their music.
Taylor Scott
Taylor Scott is an international touring guitarist and singer/songwriter based in Denver, Colorado. He has consistently toured all over the US, Canada, and Europe with both the Taylor Scott Band and trance-blues legend Otis Taylor. In 2015, he played alongside the likes of Warren Haynes on Otis Taylor's critically acclaimed release, "Hey Joe Opus: Red Meat." The Taylor Scott Band, based in Denver, is an original soul & funk-rock band released their second album, "A Closer Look, the Second Glance" in October, 2015. The band's latest single, "Summer Moon," was released on October 18th, 2016 and is available on iTunes now. Here is a word on the music: "Heavily influenced by soul, funk, blues, jazz, gospel, and rock & roll, Taylor Scott's music is gaining a reputation for transcending the limitations of a single genre. His diversely influenced "soul/jam" group, The Taylor Scott Band, is a high-powered extension of this mélange of sounds."
Download the 2017 Sponsor Packet


Brown Paper Tickets Ticket Widget Loading…

Click Here to visit the Brown Paper Tickets event page.
Huge thanks to our Sponsors!